BECOME A MEMBER
We are actively seeking new members to join our post and our family! Our membership is growing and we would be honored if you would join us.
The Veterans of Foreign Wars are the largest congressionally chartered Veterans Organization in the United States of America. When you think of the VFW, you shouldn't think of old war veterans telling war stories together.
The VFW has been instrumental in establishing the Veterans Administration, creating a GI bill for the 20th century, the development of the national cemetery system and the fight for compensation for Vietnam vets exposed to Agent Orange and for veterans diagnosed with Gulf War Syndrome.
In 2008, VFW won a long-fought victory with the passing of a GI Bill for the 21st Century, giving expanded educational benefits to America's active-duty service members, and members of the Guard and Reserves, fighting in Iraq and Afghanistan.
As yesterday's defenders of freedom, we want to welcome today's military service members into our ranks to become part of our elite group. Our common bond is the battlefield, whether it is service in the Persian Gulf, Korea, Kosovo, the Global War on Terrorism or peace-keeping expeditionary campaigns. Your courage and sacrifice have made a difference in preserving and defending world peace.

If you have received a campaign medal for overseas service; have served 30 consecutive or 60 non-consecutive days in Korea; or have ever received hostile fire or imminent danger pay, then you're eligible to join our ranks.

To become one of the 'elite' contact a VFW Post 1747 member, write us, call us, or email us but please contact us...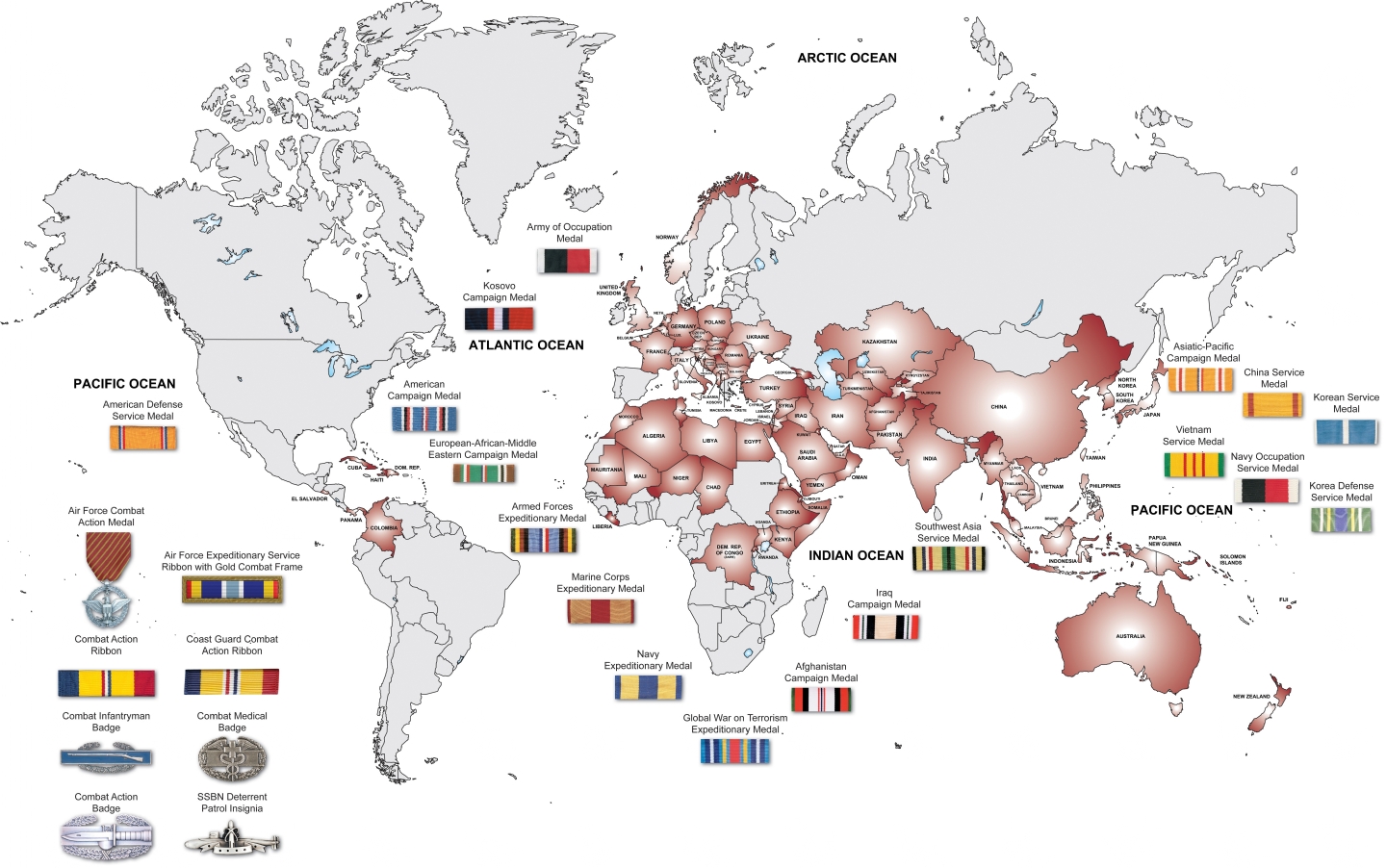 Above is a map giving examples of qualifying medals that are eligibility requirements to become a member.